Official Home Page
[ English ] [ Deutsch ]
[ English ] Main Site on Tripod.com [ Deutsch ]
[ English ] Main Site on Fortunecity.com [ Deutsch ]
---
Welcome to the news.newusers.questions home page in

---

This is the official homepage of news.newusers.questions , a Usenet newsgroup whose purpose is the dissemination of questions and answers about Usenet and the Internet.

News.newusers.questions is a newsgroup in which newcomers to newsgroups and the Internet in general can ask questions and hopefully get useful answers. The newsgroup is moderated , which means that all postings are reviewed before actually being placed in the newsgroup. For you, if you post a question or answer to news.newusers.questions, this means that there will be a delay before you will see your post, as it will be sent via email by your ISP to our moderation site in South Carolina, where it will be posted to the newsgroup. Then your post has to propagate back to your ISP's news server by way of normal Usenet news feeds, a process which may take from minutes to hours.

This site contains Frequently Asked Questions (FAQs), links to many helpful sites and newsgroups, and news.newusers.questions policy and administrative documents.
---

The many workers of news.newusers.questions dedicated to helping you, the newuser of Usenet, have created our main web site and many mirror sites around the world. The purpose of a mirror site is to have a place near you from which you can browse in a speedy manner. While distance does not necessarily mean better speed on the Internet, it often helps in connecting to handy resources. We are also working diligently towards having these pages translated into languages other than English. At present we only can offer German language pages in addition to our English language pages but we do wish to extend this service to other languages in the future.
Please select your closest mirror site:
In order to select a mirror site close to you or a mirror site in your preferred language , you may select using either the Site Map below, if it is compatible with your browser, or the list below the map. If you decide to use the map, just place your pointer on the name of the location you want to select and click on it.

Upon selection of a mirror site you will be taken to that site, and the next page, and can continue with your educational experience. If you wish to continue at this site just press the "Next Page" button below.
---
Official Mirror Sites Map
WARNING
Some browsers may be unable to manage image maps or you may be browsing with automatic image loading turned off. For this reason, as a courtesy to you, we have included the text-based site list after the image map.
---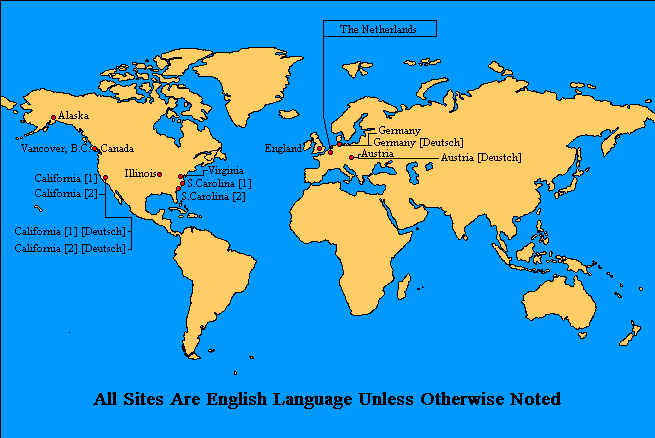 ---
Mirror Sites List
All sites are in English unless otherwise noted.
---
---

This site and its mirrors are collectively maintained by members of the news.newusers.questions Moderation Board and nnq-workers mailing list. For more information, please email nnq-adm at presby.edu.

This individual document is maintained by: Dennis D. Calhoun ( dcalhoun at blomand.net ).
http://members.fortunecity.com/nnqweb/index.html

This individual document may be copied and redistributed freely. It is to be considered material of the Public Domain and we accept no liabilities for use of its contents. If you feel that any of the contents of this page are in violation of your own copyright, please email the maintainer. Please contact the maintainer of the document if you have suggestions for improvements or additions to this document.

Last Updated: Monday, January 3, 2005
---
The person responsible for maintaining this individual mirror site is available here.
---